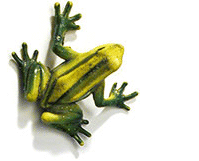 Frogbase Coverage
Web Site Development
We cover emerging, established and depreciating Web design and development technologies and track application versions and roadmaps. We identify commercial and academic experts and catalog the top firms and freelancers in Wichita, Kansas City the USA and around the world.
We focus coverage in the following areas...
Web Programming
Web Applications
Coverage includes a mix of Open Source, commercial and enterprise software for the creation and maintenance of interactive content. (These applications are installed on your server.)
Web Based (Hosted) Applications
Misc. Other
AJAX
Web Standards
Semantic Web
Microformats
Feeds
More Frogbase Coverage Areas
Web Development ...You are here...