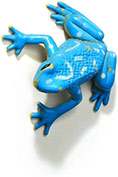 Frogbase Coverage
Local Internet Marketing
Advertising
Text Link Ads - Google AdWords
Pay per Click -
Traditional Banner Ads -
Mobile Advertising - The newest frontier.
Viral Advertising - Using interesting, funny or useful content that your customers will want to share.
Branding
Naming - What are you going to call it?
Identity - Controlling online identity
Monitoring - What is being said about your brand online and how are your public facing employees representing that brand?
Social Media - Done correctly, social networking applications are good way to casually interact with customers. Participation by your company can make you easier to find, improve customer service and demonstrate your knowledge and experience to a wide customer base. Care must taken not to violate the established norms on social networks.
Link Building - Quality inbound links are key.
Miscellaneous
Search Engine Optimization - We only promote honest SEO tactics and strictly follow guidelines provided by the major search engines. No spamming, no deception, no tricks, no shortcuts. Forget the hype, spamdexing techniques will condemn your site to the bottom of the search engine barrel. In the end, good content and good structure is how you get search engines on your side.
Web Based PR
Online Market Research -
Also See: Local and Topical Web Indexes
More Frogbase Coverage Areas
Marketing and Advertising ...You are here...